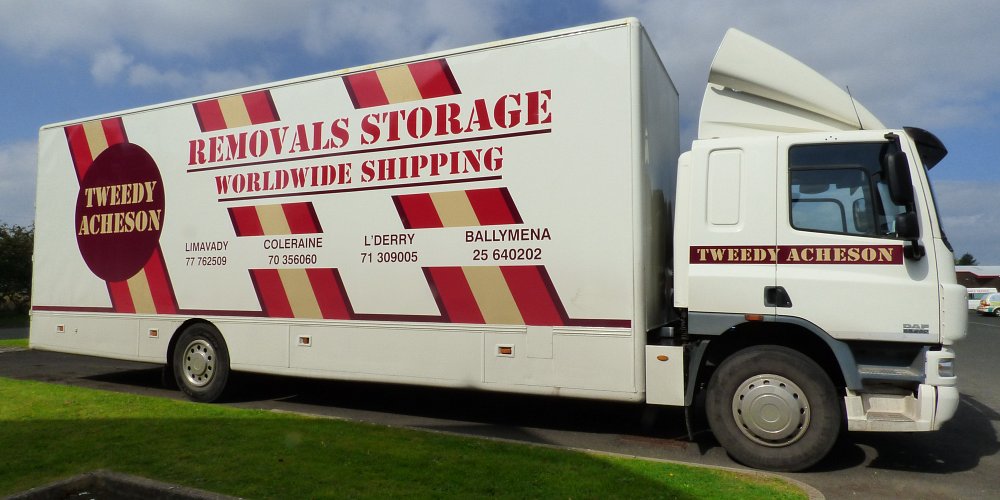 About Tweedy Acheson Removals and Storage
The Acheson family name has been a trusted name from the turn of the 20th century. Tweedy Acheson & Co started out as a drapers shop based in Pearse Street, Cavan Town, Co. Cavan. The family later relocated to the north-west of Northern Ireland and setup shop in Main Street, Limavady. With a view to expanding the business, William Acheson purchased property next to his drapers shop. In the 1960's the family opened a large department store that catered for men, ladies, children and household. Tweedy Acheson also opened a furniture shop as well as a 'budget shop'.
In the 1970's Keith Acheson started Tweedy Acheson Removals & Storage. The business started out with just one lorry. Over the next 20 years as the business grew the fleet expanded and modernised. Tweedy Acheson lorries became a common site across Ireland and the UK.
The business continues to go grow by providing first class removal and storage services in Northern Ireland.
Professional Accreditations
We are members of the British Association of Removers (BAR). As a BAR member, we work to an OFT-approved Code of Practice. We have met stringent criteria and are regularly inspected to ensure that our staff, vehicles, premises and facilities meet the required standards set out in the Code of Practice. By using Tweedy Acheson Removals & Storage you can be confident that we will be properly and professionally equipped to carry out your move, whether domestic, commercial or international.